Living in Delaware we don't typically see many Red Drum in our waters. Traveling for the opportunity to target these game fish is exciting. Fortunately its only a 140 mile drive south from my home! It's only a little over 2 and a half hours to make it to the trip to Cape Charles Virginia. I'm spoiled since I have been driving maximum an hour to the water all my life and now it has become my backyard. This drive is worth it though. This is the story of A Fourteen Hour Fishing Trip.
Midway through October 2017 and the days have been still warm. I have been getting out after work here and there for the evening Striped Bass bite close to my work. Some good fish but it's still like summer. The size of the fish is still 30″ and below. Tuesday Oct 10th during an evening on the water I sent Joe H a text giving him a fishing report. He called soon after informing me that he was planning a trip to fish in Virginia for Sunday. The weather looked good so I decided to ask if it was cool if I met up with him there. The trip was on.
The Plan:
Meet up at 06:30 near the Eastern Shore Wildlife Refuge Boat ramp Sunday. Then go fishing targeting reds. Simple enough!
The Chesapeake Bay can get rough in this area but I loaded my Jackson Kayak Kilroy as i feel it is the best suited for saltwater creek style fishing. The kayak has a Torqeedo Ultralight 403 installed for those days when you need to get back quick or against a river style current ripping tide. It comes in handy!
Sunday Fishing Day!
Out the door by 3:45 am on the road. It's still raining and foggy. The misting and fog finally became intermittent around 2 hours in. I can spot the deer peering into my headlights while passing through heavily wooded areas. Warm coffee and maximum concentration. Thinking to myself how much i love my 2016 Ford F150 over my old truck. Waze on the consul broadcasting the distance traveled and my ETA its 6: 30 to start but traffic light s and such made it more like 6:40.

I arrived and everyone was there gearing up. It was just starting to become light. There was an eerie yellowish cloud as the sun hit it from below the horizon. We hit the water and fished a small creek. It was slow fishing only with a few small Speckled Trout. So we crossed the channel and begun fishing that area. The tide was on its way out. A few more trout early. Paddling through the shallows I went as far back as I could.

There were oysters all over in the sod banks. Not sure if these are edible or if they are even legal to harvest. I found one laying on the bottom and picked it up to examine it. They were pretty small and flat but i put it back and went back to fishing.
There was no water only an inch or two. I circled back and figured id throw some casts at a drop off I saw on my way in.
First cast reeling slowly bump bump across the bottom and bang fish on! Great fight on my bull bay rod paired with the Abu Garcia Revo Inshore casting reel. Peeling drag running towards the kayak and back deep again. A great fight to land a 23 inch healthy Red Drum!

Released him and caught a few more on that drop until there was inches of water left. The clouds had finally broken away to sunshine. It was nice and warm now as everything begin to dry out. The tide slowed to a crawl so did the bite. Managing a bunch of Speckled trout a few more reds and small Striped Bass. At this point it was 12:30. We realized we were now landlocked. We fished for another half hour on a slow bite until finally dragging the yaks across the sand bar to return to the launch.
[wds id="14″]
I took a detour to go take a few photos of a large chunk of drift wood that had washed up on the sandy part of the island. As an amateur photographer I spot these things and have to get there to grab a few photos. This particular piece of drift wood I noticed from a mile away in the morning on the way across the channel. After getting my shots using the Torqeedo I went back full throttle. 6.5 mph most of the way. A following sea made it a bit strange.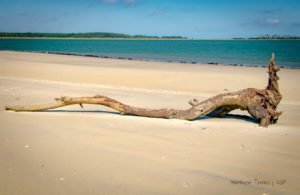 Fortunately the drive home wasn't so bad. I was worried that id be exhausted as I have been in the past coming back from really long fishing days in the summer heat. Arriving home around 5 PM the concluded the fourteen hour fishing trip. Will defiantly be doing this trip again in the future.