Length:
5' 3" - 5' 9"
Width:
20" - 22"
Height:
10.6" - 11.8"
Volume:
26 gal - 35 gal
Fun 1 Capacity:
30-80 lbs
Fun 1.5 Capacity:
60-120 lbs
Fun 1 Cockpit Size:
15.5" x 28"
Fun 1.5 Cockpit Size:
17.5" x 31"
Weight:
19 lbs - 23 lbs
Description
The Fun 1 and 1.5 were designed specifically for our smallest of paddlers - even initially as a pool toy. The size and weight of these kayaks allow smaller kids to grip, paddle and maneuver their kayaks properly and will make learning the roll SO much easier! Once your kids are ready, these kayaks are fully designed and outfitted to take on river runs, surf and even learn freestyle tricks! "Having a kayak that fit me properly as I was growing up, made all the difference." - Dane Jackson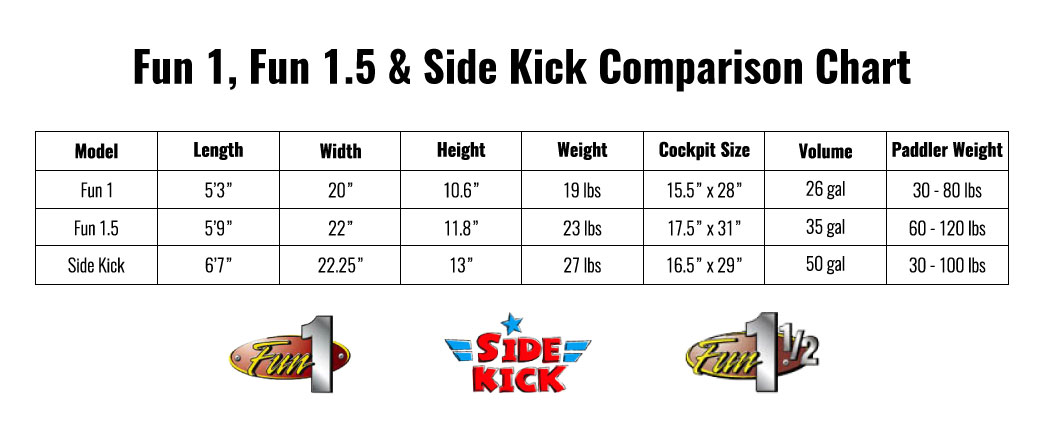 Warranty Information
This warranty applies to all Jackson Adventure products (kayaks, boats, coolers and kennels) and covers substantial defects in materials and workmanship in the hull and outfitting components sold new or as "demos". The warranty policy is subject to the exceptions lists. Review the full warranty list and details
by clicking here
.
0 Reviews
This product hasn't received any reviews yet. Be the first to review this product!
Write a Review
Kids Fun 1-1.5 Hotspots - Click For Features & Highlights